We all know that a website is an important way to connect with customers all Companies, but they are especially important for small businesses.
A small company needs every opportunity it can find to connect with customers and gain a place among larger competitors. Here is how your small business website can help you stand out, grow your company, and make an impact in your community.
Websites are essential for local search engine optimization
Search Engine Optimization (SEO) is a strategy used by all companies in order to obtain higher rankings in Google search results for their industries, products, and services.
However, small companies have an advantage over large companies because they can use local search engine optimization to be more relevant to their target audience. Local search engine optimization involves the use of relevant keywords that include local landmarks.
For example, a salon may not only use "hair dyeing service" but also "Scarborough's hair dyeing service". Or, you can be more specific, "Hair color service on Birchmount Road" or "Hair color service near Bluffers Park", depending on the location of your salon and your service area.
Why is this important? Google uses location information to understand where users are actually when they perform a Google search. If users are near you, or they use these location keywords in their search, your company will rank much higher than larger domestic competitors.
Because you are a small community business, you know landmarks that are important to your area. Take advantage of this and maximize the reach of your website!
Your website is a salesperson who never takes a vacation
Compared with larger competitors, small companies must do more with fewer resources. This usually means you have fewer employees and less time to make your marketing work for you.
Fortunately, your website can make a big difference for you. When your website is properly optimized, it is your greatest asset and most effective sales force. It serves you 24 hours a day, 7 days a week, and never needs to rest.
After optimizing your website, it will accurately appear in Google search results when someone searches for your product, service, or company. This means that you are always in the right place at the right time. Most importantly, an engaging website with the right content will help build relationships with these visitors and turn visitors into buyers.
No need to lift your finger!
Setting up your website correctly requires an initial investment, but over time it will pay more.That is Why websites are important for small businesses.
Social media pages are not enough
You might think that if you maintain a social media page on a platform where customers spend their time, this is what you need. After all, it can build awareness, right?
It may build a little awareness, but it alone is not enough. First, you can't easily share compelling content to educate people about what you provide. Long text posts are often overlooked, and blog links can educate consumers and introduce them to other parts of your website.
There is limited space where you can share information about your company, your understanding of consumer pain points, and solutions that can help. Your website gives you enough space to attract someone's attention and describe your work. From there, you can direct them to other pages on your website for more information.
Finally, social media is unreliable. For example, Facebook was down for more than 6 hours on October 4, 2021. The same is true for its related platforms Whatsapp, Messenger, Oculus and Instagram. In addition to power outages, social media also controls what can and cannot be said on their platform. If they decide to limit what your industry can share, or make your information very expensive, then you will be powerless.
Don't let yourself be a hostage to social media and its changing rules. Instead, with your own website, you can control and use it to attract and educate your potential customers and customers.
You need a high-quality website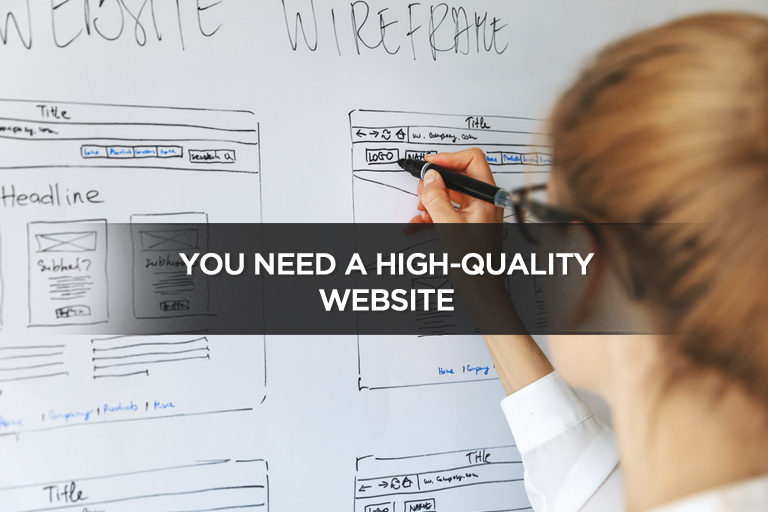 The three reasons we discussed are just that your small business needs the surface of the website. Your company's website helps build your business' credibility online, gives you the opportunity to display reviews, case studies, and recommendations, and gives you the opportunity to appear in Google search results.
Just having word-of-mouth ads or social media pages is not enough. You need a controllable platform that has enough information to build trust in your audience.
If you are ready to take advantage of the many advantages of a small business website, please let us help. We can create a website for you or optimize your website for SEO and local SEO. Contact us today to learn more!