Why is it important for business owners to know their buyers? Well, knowing who your buyers are, where they are and what they want can help you find effective strategies to serve them. It is also important to understand their buying behavior. The more you pay attention to their needs and needs, the more specific and targeted your action plan will be.
Remember that different types of customers have different personalities. And since not all customers are the same, they will have different needs and expectations based on their position in the sales channel. As a customer-centric business owner, you need to meet these needs and serve them at any time.
Here are 6 types of buyers and how to contact them.
Someone who already knows you
This group consists of people who are satisfied with your product or service, word-of-mouth recommendations, and loyal customers. They make your business sustainable because they will keep in touch with you and even recommend you to your family and companions.
Loyal customers are the natural product of quality products, customer service and reasonable prices. When you perform well in all these departments, people will naturally spread information about your company, leading to more recommendations.
How to keep loyal customers loyal:
Discover what exactly makes them happy with your business.
Research these factors and apply them to your other customer experiences.
Ask them to write reviews or recommendations on how satisfied they are with your product or service.
Cultivate relationships with these customers. Let them be confident and excited about your product or service.
People who don't understand your business
Also known as potential customers, these types of buyers are newbies in your city or town. Therefore, they don't know anything about your company and the products offered. They turn to Google to find the product or service they need. Any purchases resulting from their queries are called organic purchases.
Common examples of such customers are:
tenant
Immigration
Local residents who have just moved home
Traveler
Sooner or later, these potential customers will look for services such as plumbing repairs, dry cleaning, car repairs, physical therapy or general dentistry. You need to be visible online and have access to this market.
How to turn potential customers into buying customers:
First, identify the popular search terms that these people use to find your product or service. Incorporate these terms into your content to get a chance to rank higher in search engine page results.
Give them value. Potential customers are already interested in the products you offer. The next step is to build on this interest and highlight the benefits they get from your purchase. Direct them to a login page, case study or social proof.
Provide your expertise. Let them know that they can ask you for advice and give them a reason to trust you. Not all potential customers need pipeline repair every time, but at least you have established a brand you can trust. Once needed, they will remember it for you.
People who only need you in an emergency
Some services are designed to help people get through their daily lives, while others are more urgent in emergencies. But who knows when an emergency will happen?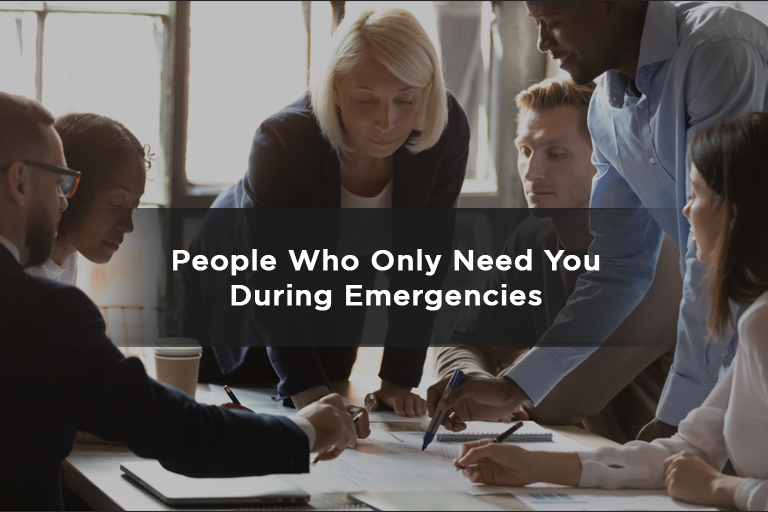 On any given day, someone will need to repair broken teeth, replace tires or block pipes. If your company specializes in providing this type of service, then when people access the Internet to get help immediately, it's important to be visible to you on Google.
How to better serve these potential customers:
Use search terms and phrases that people use to find specific emergency services to optimize your content.
Make contact with the customer's company simple and direct. The fewer clicks you get, the better.
Provide a response as soon as possible.
People who are dissatisfied with certain services of another company
These types of customers may have had an unpleasant experience from another company or are looking for other service providers with better products or services. No matter where the dissatisfaction comes from, these customers are actively looking for products that meet their needs, or products that are more suitable for the problems they want to solve.
How to satisfy these potential customers:
Use search terms and phrases that people use to find certain services to optimize your content.
Make contact with the customer's company simple and direct. The fewer clicks you get, the better.
Respond instantly. Try to exceed their expectations.
Buyers of bulky items
These people are planning large projects or events and are looking for service providers that can help the business succeed. These customers may need contractors for home improvement projects or are looking for clues to storage space for shipping furniture parts.
How to serve these people:
The search terms and phrases these people use to find your service can optimize your content. This increases your chances of finding it online.
Make contact with the customer's company simple and direct. The fewer clicks you get, the better.
Respond to their inquiries as soon as possible.
People who compare prices
Some people who are not in a hurry to buy are taking time to find prices. After comparing prices and transactions on the website, these people will sort through the website and carefully find which company provides the best product at a lower price.
You can't win these people right away, but you need to make their time on the site worth their use by telling them your unique value proposition and its relationship to pricing.
How to deal with price shoppers:
Find out what these people are looking for and provide it to them. Your product or service may not always be the best for them, but at least you have informed them of their offers.
Highlight your value. People are also curious about the value that can be obtained at a specific price. This is your opportunity to explain the value proposition. Emphasize the "cherries" they can't find elsewhere in your offer.
Upgrade your local SEO game to improve your website's ranking and position yourself as an authority in the industry. Therefore, when potential customers are ready to buy, they can easily find you on Google and treat it as an option.
Bottom line
You don't always have to win all customers, you just need to win the best type of customers for your business. No matter what type of buyers you want to attract, you are always ready to cater to new customers who can become the backbone of your business. Looking for qualified customers will be good customers in the long run.
This The good news is Google Give you the opportunity to pursue any type of buyer. You only need to improve your online image, improve your ranking on search engines and position yourself as an authority.
You don't need to do this separately.That is Local SEO search it's here. We help various companies build brands online, attract new customers and rank higher on search engine results pages. We have decades of comprehensive experience in digital marketing for small businesses, so we understand the evolving needs of emerging companies. We can help you expand your company.
Call 416-888-8756 or 1-877-689-5268 for free consultation!