If you have a website, the good news is that you are already heading in the right direction. However, depending on the design time of your website, it may be time to refresh. Due to constant changes in Internet technology, the website needs to be updated regularly in order to provide the best experience for your users and the best performance for your business.
Failure to update your website can cause people to lose trust in your business. Most importantly, it may cause traffic loss, which may ultimately mean a decline in sales of your business. By investing in improving your website, you are actually investing in your business, resulting in some good results.Read on for 5 signs that you may be ready for New website design.
Your website is not mobile-friendly
Did you know that more than 90% of people in the world use mobile devices to access the Internet? As mobile devices continue to become more and more popular, this number will only increase in the next few years. This means that if your website is not mobile friendly, you will be at a serious disadvantage. People who visit your website on mobile phones and tablets are likely to leave once they find that the website doesn't look good on their devices.
There is no doubt that implementing mobile responsive design is the first step that should be taken to update a website. Experienced web developers can help ensure that your website looks good on all devices.
Your website no longer matches your brand
Chances are, your website has changed a bit since you first created it. If your website no longer accurately represents your business, then it's definitely time for some updates. Since your website is the first impression many people have of your business, you need to make sure that it accurately describes your business.
Your business should have a professional appearance and personal style, so that users can truly understand the services your business provides.
Your bounce rate is high
Have you noticed that most people who visit your website leave without taking any action? The design of your website may be the reason people seem not interested in staying. No matter what kind of business you are in, the goal is to keep people on your website long enough to buy products/services or interact with your content.
Working with a web design company can help determine some of the reasons why your website has such a high bounce rate. The company can then come up with a plan to redesign your website to create a better experience for your visitors.
Your website is difficult to navigate
One of the key components of a great website is a great user experience. When people visit your website, they should be able to easily navigate from one page or section to the next. If they are unable to do so, they will leave and go to one of your competitors. Obviously, this is the last thing you want.
When you consider website design, a good user experience should be your first consideration. The menus on your website should be easy to find and use. Each page should have clear labels so that visitors can find exactly where they want to go.
Your website needs to load forever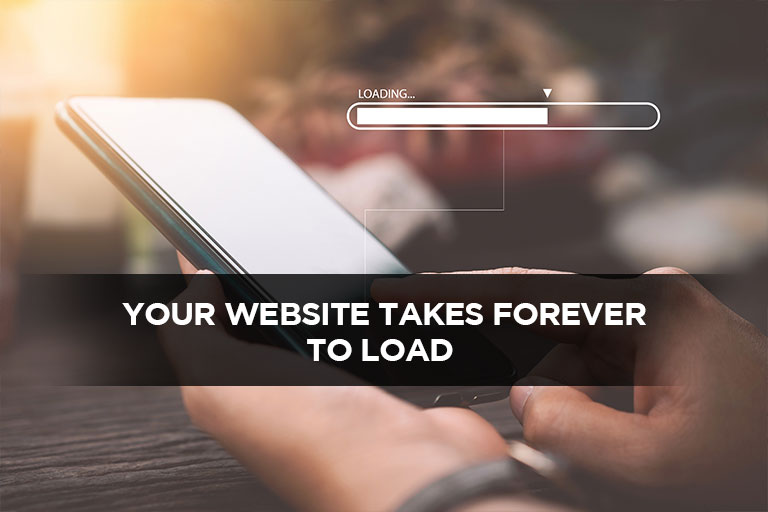 With the continuous development of technology, people's expectations for website loading speed are also increasing. Ideally, your website should load within 1 to 2 seconds. If the time is longer than this, you may have someone leave. The cruel reality is that after a bad experience with your website, many people won't even give you a second chance. The good news is that you can do something with your web design to improve your page speed.
Once your website starts to load within the required time frame, you may see an increase in the number of visitors and the time people spend on your website.
Don't let your website fall into the past
If you can understand any of the logos we discussed in this article, then it's time to make some changes to your design. Don't let outdated websites become the reason why you miss out on attracting new customers. Remember, investing in your website is critical to the success of your business.
In local SEO searches, we have the knowledge and experience to create engaging and responsive websites that our clients are proud of. We are proud to help companies like yours build a strong online presence. Contact us now to arrange a free consultation.